What is a Bioblitz?
One of the first steps to protect native plants and animals is making sure we understand where wildlife is located and how it's distributed. A Bioblitz takes a snapshot of an ecosystem at a certain point in time — usually conducted over just a few hours or a few days — when a team of observers gathers together to record all the plants and animals they are able to spot within a given area. The events are quick to set up, fun for kids and adults of all ages, and educational for anyone with an interest in understanding local wildlife. But the observations are important for scientists, too! The data collected by anyone can be used to inform biologists how best to protect and restore an ecosystem.
Bioblitzes task users to take photos on handheld devices like mobile phones and tablets — often using a community science app like iNaturalist or Seek, which can quickly identify plants and animal species and instantly upload photos (if you're willing) into a global database, where images are used by real conservationists and researchers who study species health and biodiversity.
How to create a Bioblitz using iNaturalist?
iNaturalist is a free platform that makes running Bioblitzes quick, easy, and impactful. Using iNaturalist, you can have your Bioblitz up and running in 8 easy steps.
1. Once you have an account and are logged in, create a Bioblitz project by clicking on "Projects" under "Community" in the main menu.
2. From the Projects page click on "Start a Project."

3. Next, click on "Get Started" (3) under "Collection Projects."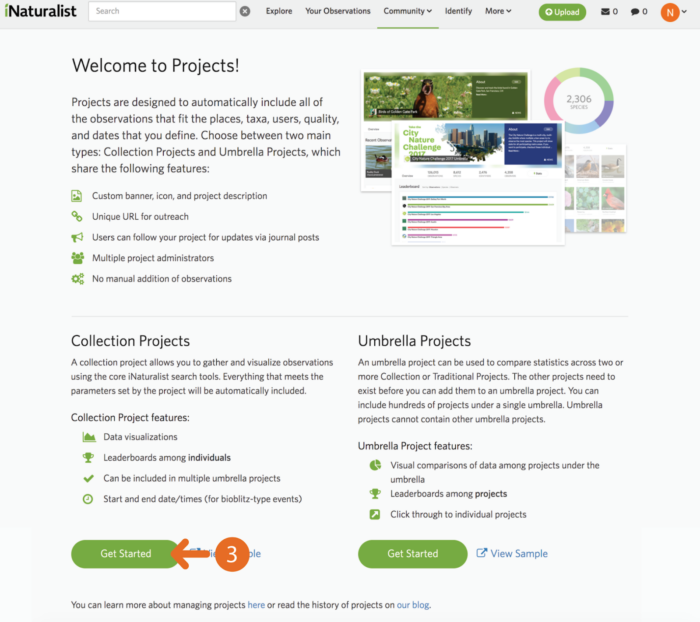 4. Choose a "Project Name" for your project. Make sure this is easy for your participants to find by using the name of your local park or host organization, as well as a date.
5. Provide a brief "Project Summary," feel free to work with the following template:
The [your location's name] Bioblitz aims to explore and celebrate our local biodiversity by shining a spotlight on [any plants or animals that might be the focus of your event].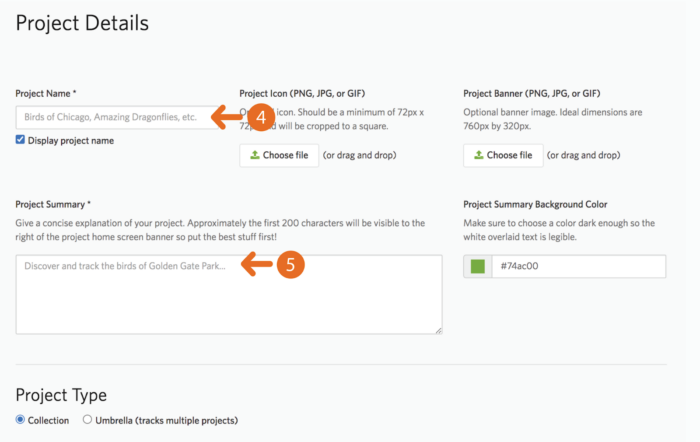 6. Next, fill out the observation requirements, starting with a place or region for the event. When selecting a region, every state/province and county/municipality should be available to select. There are also numerous places created by the community representing parks, cities, or other local green spaces. Choose a place from the "Include Places" (6) dropdown.
If the place you want is unavailable, you might need to create it yourself. To earn permissions to create places on iNaturalist you need to have posted at least 50 verifiable observations.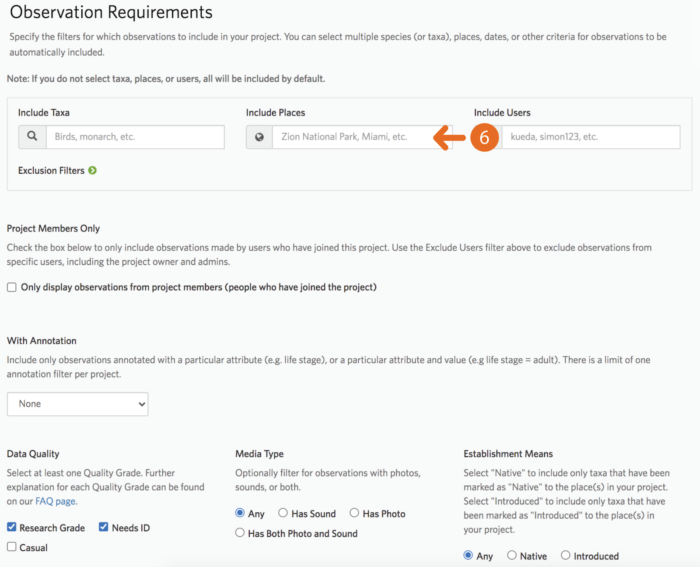 7. Your Bioblitz will also need start and stop dates and times. Under "Date Observed," click "Range" and enter the start and stop dates for your event. You might choose a specific few hours for a group event at a specific location, or a longer period of time (a week or month) if you have a larger search area and want your participants to observe on their own before gathering to see the results.

8. Lastly, add any other user accounts to your "Admin(s)" list that will have access to editing your Bioblitz and reviewing results. Once completed, just click "Done"!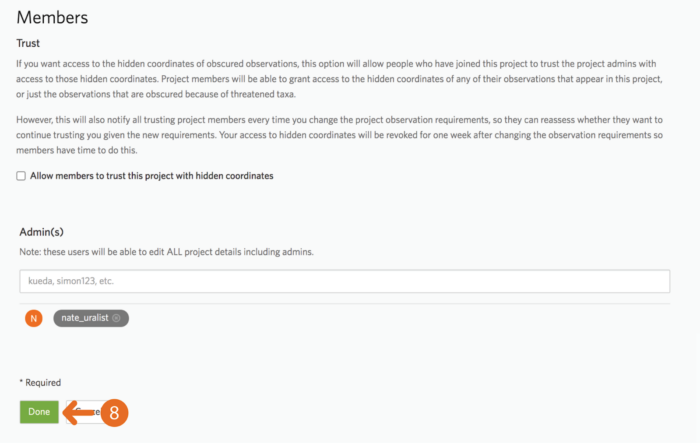 Your project is now created!
Running a Bioblitz
With your Bioblitz set up in advance, running the event itself is a breeze. Just make sure your participants have created their free iNaturalist accounts and are logged in on their mobile devices. We recommend suggesting to your communities that they create their accounts beforehand to save time and avoid potential bandwidth issues on the day of your event. As long as they are logged in, any observations made by your participants in the designated location during the designated time will automatically be included in your Bioblitz.
For younger users or those who don't want to create free iNaturalist accounts, we suggest the companion app Seek, which offers similar observation and identification features but does not collect data or upload images into the iNaturalist database. Please note, however, that Seek observations will not count towards the Bioblitz.
Reviewing your Bioblitz observations during and after your event
Once your Bioblitz is underway and participants are making observations on their mobile devices, you can track progress from the iNaturalist website by entering the name of your event in the search bar and then clicking "About." Gathering as a group to review the data is a great way to conclude the Bioblitz, giving you an opportunity to commend the participants, call out any exceptional observations or prolific observers, and remind people that the iNaturalist community will continue identifying their observations even after the event concludes.

This is an example of a Bioblitz project on iNaturalist. "A" indicates the key stats from the Bioblitz: the number of observations, the species represented, the number of identifiers and the number of observers.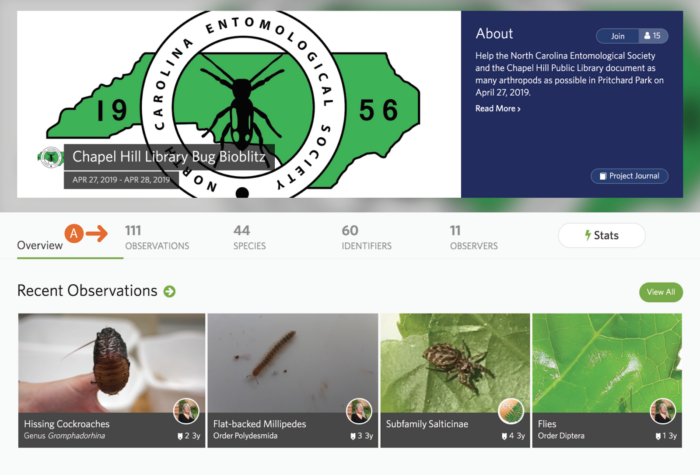 "B" shows the leaderboards of users who made the most observations, the most species, and the most observed species. Bioblitz projects on iNaturalist summarize all observations meeting the project requirements. "C" shows these requirements. In this case, the project shows all observations of "Arthropods" within the place "Pritchard Park, NC, US", between April 27 and April 28, 2019.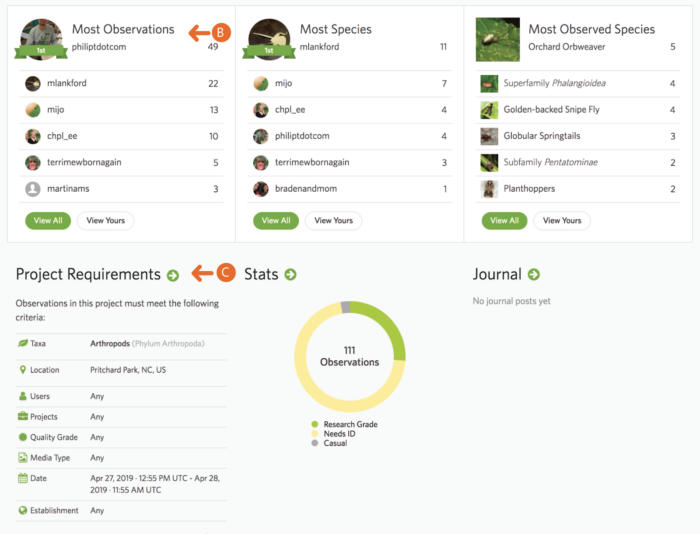 "D" shows a map of the observations.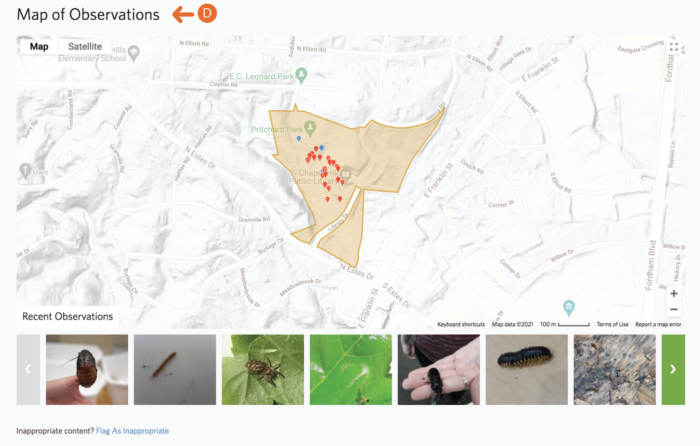 What to do next?
Now that your Bioblitz is finished, the opportunities are endless to make further meaning from your results, or to continue the discussion within your community about protecting your local environment. Conducting multiple Bioblitzes season after season, or year after year, is a great way to further your observational skills and to begin understanding how species distributions might change over time. Inviting guest speakers from a local science or Audobon club, or even a biologist from a local university or museum, could inform your community on how their images are used by scientists to enact real protections or policies.
If you've conducted a Bioblitz, we'd love to hear about the event — especially if you have an interest in using the experience to create your own Wild Hope story. Email us at teamwild@wildhope.tv so we can hear more about the amazing work being done by nature-loving communities everywhere.